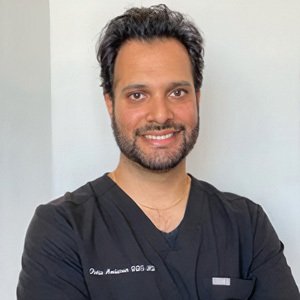 Meet Rohin Ambaram, DDS, MD
Dr. Rohin Ambaram grew up in the Northern California area then moved to Los Angeles for dental school at the University of California, Los Angeles and finally landed in Detroit, Michigan, for his oral and maxillofacial surgery residency. It has been a long journey for Dr. Ambaram, and he loves what he does, particularly when he is able to make his patients feel comfortable and help them achieve their dental health care goals. Outside his practice, Dr. Ambaram enjoys playing golf and being with his family — his lovely wife and daughter.
Bilingual: English and Gujarati.
Skilled Craftsmanship: Designing and building wooden furniture.
Reading: philosophy, scientific journals, biographies
Education
2021: Oral and Maxillofacial Surgery Certificate Candidate, Detroit Medical Center
2019: MD, Wayne State University School of Medicine
2015: DDS, UCLA School of Dentistry
2011: BS, Managerial Economics, University of California, Davis
Certifications
General Anesthesia Sedation Permit
Basic Life Support (BLS)
Advanced Cardiac Life Support (ACLS)
Pediatric Advanced Life Support (PALS)
Advanced Trauma Life Support (ATLS)
Awards
Edwin H. Lorentzen Scholarship, Medical Student Scholarship
Board of Governors Medical School Scholarship
Nicholas K. P'Sachos and Mary T. P'Sachos Medical Student Scholarship
UCLA Dentistry Grant
UC Davis Dean's Honor List, College of Letters and Science
Research Experience
2014: UCLA School of Dentistry, Weintraub Center for Reconstructive Biotechnology — Specific gene mutations and its effects on implant osseointegration
2012: UCLA David Geffen School of Medicine, Department of Physiology — Investigation on the excitation-contraction coupling process in mammalian skeletal muscle cells using electrophysiology, molecular genetics and optical tools
Volunteer
2011: Volunteer, South African Red Cross Air Mercy Service
2012: UCLA ASDA, Global Medical Brigades
2013: UCLA Care Harbor
2013: UCLA School of Dentistry Treatment Day
2014: Mission trip to Honduras, UCLA School of Dentistry